Renewable Energy Assurance Ltd carries out a range of certification and consumer protection activities all of which promote sustainable energy. Renewable Energy Assurance Ltd's activities fall under two headings: consumer codes and certification schemes.
Renewable Energy Assurance Ltd is a company limited by guarantee (number 5720606). It was incorporated in 2006. It is a wholly-owned subsidiary of Renewable Energy Association, a not-for-profit company limited by guarantee (number 04241430). It  was incorporated in 2002.
Consumer Codes

Renewable Energy Consumer Code
www.recc.org.uk
Renewable Energy Assurance Ltd has administered the Renewable Energy Consumer Code since its inception in 2006 . The Code sets out high standards for businesses that sell and install renewable heat and power generators to domestic consumers. The Code is approved by Trading Standards Institute (TSI) under their Consumer Codes Approval Scheme.
Certification Schemes

Biofertiliser Certification Scheme
www.biofertiliser.org.uk
The Biofertiliser Certification Scheme (BCS) provides assurance to consumers, farmers, food producers and retailers that digestate produced from anaerobic digestion is safe for human, animal and plant health. Biofertiliser is the name adopted for the quality digestate that meets the PAS110 & ADQP or ASRS specification.

Green Gas Certification Scheme
www.greengas.org.uk
The GGCS is a simple and reliable way to eliminate double-counting of registered green gas. It provides certainty for consumers who buy the gas, confidence in the green gas sector and an incentive for gas producers to inject green gas into the grid instead of using it to generate electricity.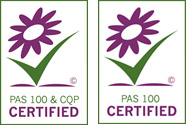 Compost Certification Scheme
www.qualitycompost.org.uk
The Compost Certification Scheme is the only independent scheme in the UK aligned and providing a framework for independent assessment and certification of compost to 'PAS 100 only' and to PAS 100 and the Compost Quality Protocol. Any producer can choose to apply for 'PAS 100 only' or 'PAS 100 and Protocol' certification, irrespective of the country/ies in which the compost is used and according to whether it is intended to be supplied as a 'product' or a 'waste'.
Compostable Packaging Certification Scheme
www.organics-recycling.org.uk/Compostable-Packaging-and-Plastics
A packaging item compliant with the 'compostability' criteria set in BS EN 13432 is 'compostable'. Similarly, a plastic item compliant with the 'compostability' criteria set in BS EN 14995 is 'compostable'. For many standards, including BS EN 13432, independent certification bodies offer product assessment and certification services. In the UK, Renewable Energy Assurance Limited operates such a scheme in partnership with the German certification body DIN CERTCO. This scheme is aligned to the requirements of BS EN 13432.